Reduce per capita consumption at a stroke
Fully approved by the UK water industry
A simple plug and play system at any time in the life of a water service
Proven to save up to 25% water consumption
Save up to £300 per property per annum in energy costs (source BBC)
No excavation or access required
Only product to offer backflow protection up to fluid category 2
(UK Patent No. 2440412)
LoFlo is a derivative of our patented NRv2 product, designed to manage and regulate the flow of water to a property by means of a "smart" non-return valve, making it the most efficient and cost-effective method of reducing per capita consumption and finding "water neutrality".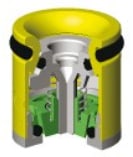 Image of smart valve courtesy of NeoPerl Ltd.
The system is designed to reduce wastage from "normal" use of water services and to reduce water consumption by up to 30 litres per person per day – which could save the average property owner up to £300 per property per annum in energy costs (source BBC) – assuming two-person occupation.
As with NRv2, the system can be used at any time during the life of a property, being installed without special tools without disruption to the household, unlike other flow restriction devices.
Perfect for use with all boiler systems including "Combi" boilers systems as LoFlo DOES NOT affect water pressures and minimum flow pressures offered by the UK water industry.
The system's versatility means it is perfect for any property, even on Park homes and on caravan sites. (see images).
Click here to download the WRAS approval certificate for the NRv2 family.

Product Image Gallery
Click on any image to enlarge and view the full product image gallery.
Technical Specifications
WRAS certified as being compliant with all water industry specifications for materials.
Pressure tested to 50 Bar
Thread: male / female 1.5" BSP thread (standard concentric meter thread) in accordance with Water Industry Standard (WIS 4-37-01)
Certified to offer whole site protection to Back Flow Category 2
Installation Guides
Simply screw NRV2 between the thread of the meter (concentric type) and the thread of the manifold
Locate in the Groundbreaker or boundary box as "standard"
The patented innovative design will, when two units are used in series, will provide a "double check valve" offering protection up to fluid category 3.
Please note: any such work must have prior approval of the local water company.
We have a wide range of stockists, suppliers, distributors and installers across the UK.
Groundbreaker
To provide water control and metering for domestic and light commercial properties.
INSUduct
A water pipe insulation and protection system, for new and existing water services.
SHalloduct
Protecting water pipes in "difficult" situations
NRv2
For whole site protection from backflow. Also for 'keyhole surgery' on failed boundary boxes.
Our products are available throughout the UK from a variety of stockists and distributors

We're here to answer any questions or queries you might have about any of our product range